Public Company Quality Improves Again, First Generator Reaches 80%
Wednesday, June 3, 2015 at 10:10AM
Charlie in Becoming an XBRL Master Craftsman
The quality of XBRL-based financial reports submitted by public companies as measured by the fundamental usability of the reported information has increased yet again. Also, the first filing agent or software vendor has reached the 80% level.
80 percent of the digital financial reports created by the filing agent RR Donnelley are consistent with every fundamental accounting concept relation. The average climbed to 64.4% from 63.2% a few weeks ago and 58.3% for the 10-Ks filed over the past year.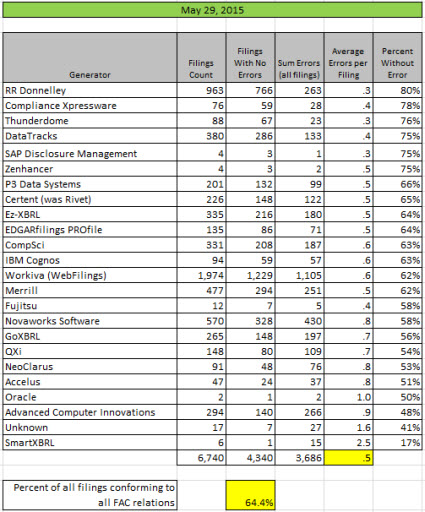 (Click image for larger view)
Congradualations to RR Donnelley! And thank you to all the public companies, filing agents, and software vendors who take digital financial report quality seriously. An increase in the quality of high-quality reports will make it harder to others to get away lower quality reports.
You can find information on how to fix these inconsistencies here.
Article originally appeared on Intelligent XBRL-based structured digital financial reporting using US GAAP and IFRS (http://xbrl.squarespace.com/).
See website for complete article licensing information.