Public Company Consistency with XBRL US DQC Rules
Saturday, August 27, 2016 at 08:00AM
Charlie in Becoming an XBRL Master Craftsman
The XBRL US Data Quality Committee publishes a set of rules which are used to help assure the quality of public company XBRL-based financial filings to the SEC. So how are public companies and software vendors/filing agents doing against those rules? Well, XBRL Cloud reports information about consistency with those data quality rules and I summarized that information and this is what I get: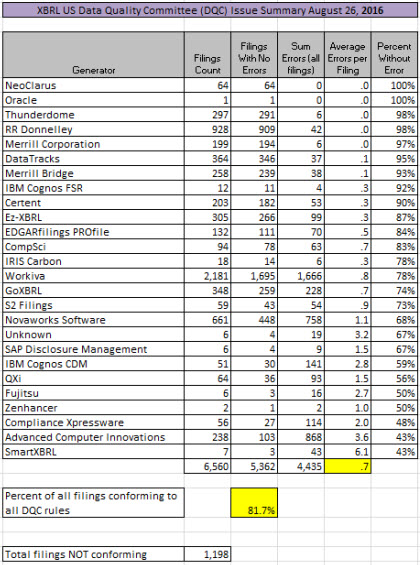 This document explains what is tested in detail. Those results are pretty consistent with my fundamental accounting concept relations consistency results.
One day tools will exist that organizes and packages all of this validation and reach quality levels of six sigma which is 99.99966%. Right now, quality looks to be between sigma level 2 and 3. XBRL-based public company financial reports to the U.S. Securities and Exchange Commission will help people recognize the quality level achievable by accounting professionals.
Accountants use double-entry bookkeeping for a reason. Errors and fraud cannot be tolerated within reported financial information. Accountants seem to forget this or take it for granted. Non-accountants don't really grasp the value. If you are a non-accountant and don't understand this or if you are an accountant and this has slipped from your mind, I would encourage you to read the section A Very Brief History of Accounting in this document.
Article originally appeared on Intelligent XBRL-based structured digital financial reporting using US GAAP and IFRS (http://xbrl.squarespace.com/).
See website for complete article licensing information.