Today's software for creating XBRL-based digital financial reports is off target. Software engineers/developers/vendors need to be nudged in the right direction by business professionals. But first, business professionals need to learn what to ask for.
CAD/CAM software which is used to create "digital blueprints" offers good lessons for professional accountants and other business professionals. Contrasting how digital blueprints are created to how digital financial reports can be created helps to communicate the vision of what an intelligent XBRL-based digital financial report is.
I found three videos related to CAD/CAM that run a total of about 25 minutes which helps communicate the vision. Any business professional can understand this information. In those 25 minutes, if you have only a little imagination you can grasp the parallels between what has happened to the blueprint and draftsmen, architects, and engineers; and what is happening to accountants, auditors, and analysts.
When you watch these three videos, think of the following: Near zero defect intelligent XBRL-based digital financial report:
Purpose-build for disclosure management and financial report creation, intelligent XBRL-based digital financial reporting products collect information about financial report creation projects and allow this information to be coordinated across all other representations of the project, so that every statement, policy, and disclosure is based on internally consistent and complete information from the same underling financial information database.
Here are the three videos:
The Difference between traditional CAD and BIM: (11 minutes) The really good part starts at 3:52 where the narrator explains that you "draw with walls, doors, and windows" rather than with lines and circles like in AutoCAD.
Revit 2017 - Tutorial for Beginners: (13 minutes) This video simply provides additional, but very good, details which expands the ideas shown in the first video. Shows how Revit lets you work with walls, doors, windows, roofs, ceilings, floors and so forth. Imagine an intelligent financial reporting tool that lets you work with statements, disclosures, policies, roll ups, roll forwards, etc. Think intelligent spreadsheets.
The Evolution of Drafting: (9 minutes) While the entire video is good to watch, the three graphics which show relating to "no need for interpretation" and "information lost over time" make a major point: Information lost over time: Design phase, Construction phase, Facilities management phase; a similar situation exists with financial reporting
Using the "information loss over time" idea from the third video and combining that idea with the notion of "harmony" as contrast to dissonance from the SWIFT Institute paper, I created the following graphic which shows information loss between standards setters, economic entities which create financial reports using those standards, and then regulators, investors, and analysts who use that information. This is what I came up with: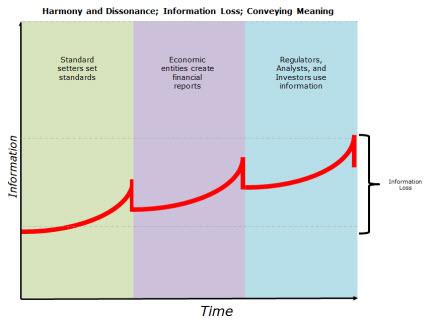 (Click image for larger view)
I don't know that I have the graphic totally right, but I do believe it helps make the point about information loss and how intelligent XBRL-based digital financial reporting helps to minimize information loss by improving communications.
Do you have a better graphic to communicate this notion? Let me know.
What is necessary is a tool purpose-built for creating financial reports? The user is never exposed to the XBRL-technical syntax, or anything "technical" that relates to computers. The "technical" that they work with relate to accounting and financial reporting. How to you create such a tool? Read this. That information helps you hone your skills.