I mentioned that old school financial report creation processes can be inefficient and error prone and that these processes should be change. But how should these processes be changed?
BlackLine has one of the best explanations of what the modern finance platform will look like. BlackLine uses the term "smart close". Their smart close appears to be SAP specific. Here is BlackLine's description:
The Modern Finance Platform

BlackLine builds solutions that modernize the finance and accounting function to empower greater productivity and detect accounting errors before they become problems. BlackLine products work in unison to eliminate manual spreadsheet-dependent processes prone to human error. BlackLine Account Reconciliations automates and standardizes the reconciliation process, and natively integrates with other BlackLine products to help manage every element of reconciliations and the financial close. Streamlining account reconciliations helps ensure accurate and efficient accounting activities, free from manual, error-prone practices. BlackLine is the only provider that offers a unified cloud platform supporting the entire close-to-disclose process and the leader in Enhanced Finance Controls and Automation software. BlackLine enables clients to move away from out-of-date practices and help finance and accounting professionals work smarter, more efficiently, and accurately. Clients around the world use BlackLine. BlackLine's cloud platform unifies the experience of more than 196,000+ people around the world as they accurately, securely, and efficiently execute critical accounting tasks from reconciliations and journals to intercompany settlement and the financial close.
As I menstioned in the document Computer Empathy, more tasks of both the internal and external financial report creation processes will be automated. Rather than humans doing all the work, teams of humans assisted by machines (i.e. software) will collaborate to create financial reports. Humans will focus on the sorts of things they do best; machines will focus on the sorts of things they do best.
So, what is the process? What are the tasks that need to be performed? What software is available? I have been nuturing this graphic along for about six months which tries to explain the tasks within the process of creating a financial report. Here is that graphic (click image for a larger view):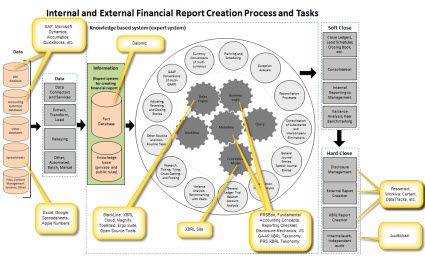 (Click image for larger view)
If you think about how you might implement accounting process automation one of the first things you will realize is that you have to use some sort of technical syntax in these processes. XBRL is an excellent choice. I show you how you can do this in my Guide to Implementing Robotic Finance. Now, XBRL is not the only choice. The semantic web stack is a viable alternative. You do need some sort of a logic framework.
To be honest, I do not clearly understand the pros and cons of the semantic web stack as contrast to the XBRL stack. Frankly, I really don't think it matters which technical stack you choose. The power of the logic framework does matter. The more powerful the logic, the more work that can be automated.
Don't understand all of this? You are not alone. Many business professionals need to enhance their digital skills. What the heck is a digital mirror world? And what is triple-entry accounting? Or, digital distributed ledgers? What are the risks of artificial intelligence? It does not seem that artificial intelligence is working for self-driving cars; why should we believe it will work for finanancial reporting?
These are all excellent questions. And all of these questions have answers.
Accounting, reporting, auditing, and analysis in a digital environment will be here sooner than you might think! Don't be an information barbarian. The quality standards of financial reporting are extremely high. Software vendors that cannot maintain quality will not succeed. Low quality is simply a non-starter.
How do you build a modern finance platform? This document General Ledger Trial Balance to External Financial Report helps you understand the pieces of that puzzle.
Stay tuned for more information.