BLOG: Digital Financial Reporting
This is a blog for information relating to digital financial reporting. This is my brain storming platform. This is where I think out loud (i.e. publicly) about digital financial reporting. It is for innovators and early adopters who are ushering in a new era of digital financial reporting.
Much of the information contained in this blog is synthasized, summarized, condensed, better organized and articulated in my book XBRL for Dummies and in the chapters of Intelligent XBRL-based Digital Financial Reporting. If you have any questions, feel free to contact me.
An XBRL-based report is made up of facts (i.e. the "data" reported) and a model (i.e. the structure and other relationships between the facts). An XBRL instance articulates the facts; an XBRL taxonomy articulates the model.
The accounting equation is an excellent example of the power of a symbiotic collaboration of fasts and a model. The accounting equation seems simple: assets = liabilities and equity. But don't under estimate that simple model. Accounting rules created over the years have built upon that fundamental model:
Assets = Current assets + Noncurrent assets
Liabilities = Current liabilities + Noncurrent liabilities
Equity = Equity attributable to parent + Equity attributable to noncontrolling interest
One could go on building out those relations. For example, I have. Here are high-level relations for US GAAP and IFRS. You can see human-readable and machine-readable versions of those high-level relations.
Now, not every company has exactly the same high-level relations. For example, both US GAAP and IFRS have the notion of a classified balance sheet which breaks down assets and liabilities into their "current" and "noncurrent" categories. Banks and other companies don't use the current/noncurrent distinction; they use an unclassified balance sheet or also called an order of liquidity balance sheet presentation.
I addressed those different approaches to organizing these high-level financial concepts in the model I created by introducing the notion of a "reporting style". A reporting style is simply patterns of how companies report their financial information. I have the reporting styles for US GAAP and IFRS. This document related to IFRS reporting styles is the best documentation for understanding exactly what a reporting style looks like.
Now, I did not make this stuff up. All I did was observe empirical evidence and organized things. Here is my evidence for US GAAP and for IFRS.
On the one hand, one of the most unfortunate distinctive peculiar features of both the US GAAP XBRL Taxonomy and the IFRS XBRL Taxonomy is that they were both created to be "pick lists" of 'tags". There were a lot of reasons this happened.
On the other hand, neither the FASB (maintainer of the US GAAP XBRL Taxonomy) nor the IFRS Foundation (maintainer of the IFRS XBRL Taxonomy) had the benefit of thousands of XBRL-based financial reports that are machine-readable when they initially created their taxonomies.
However, now they do. Both IFRS and US GAAP XBRL-based reports have been submitted to the SEC and are just sitting their waiting to be used for all sorts of things. One really good use of those XBRL-based financial reports is feedback on how to create XBRL taxonomies.
The FASB and IFRS Foundation should take advantage of this opportunity.
But the most unfortunate consequence of the US GAAP XBRL Taxonomy and IFRS XBRL Taxonomy being "pick lists" is a bunch of software vendors that have been led down the wrong path. Rather than being able to leverage the XBRL taxonomies for US GAAP or IFRS; software has to "fight" the taxonomies to overcome the deficiencies.
That costs software vendors dearly in terms of functionallity that these vendors could offer the users of the software, quality problems in the financial reports created, increased software development costs, among other issues.
The FASB, IFRS Foundation, SEC, ESMA, software vendors, XBRL International, investors, data aggregators, and the public/listed companies that have to all interact with XBRL-based reports don't act as if they had an interdependent relationship where cooperation serves everyone. How unfortunate.
The losers? Basically everyone. Increase costs, quality problems, unsatisfied potential users of the information. How very unfortunate.
The solution? Recognize the interdependent nature of the relationship and cooperate. Maybe I am being naive. But I would rather be naive than participate in this problem. So, I just build my own metadata to work around the dysfunction.
Posted
on Sunday, August 12, 2018 at 09:01AM
by
Charlie
in Becoming an XBRL Master Craftsman
|
Post a Comment
|
Email
|
Print
Answer Set Programming (ASP) is a declarative logic problem solving approach based in stable model semantics. It is tailored to modeling problems in the area of knowledge representation and reasoning (KRR). Frankly, most of this is over my head. But, answer set programming seems like it is a step in the right direction. Here are some resources:
It seems like answer set programming is similar to description logic.
Posted
on Thursday, August 9, 2018 at 05:21PM
by
Charlie
in General Information
|
Post a Comment
|
Email
|
Print
Continuing on with my analysis of IFRS reporting styles I have created an additional temporary reporting style code for the income statement. The reason I created this temporary code is that the ISXXXXX basically turns off all of the income statement tests until I can establish the pattern of the income statement that has this code.
What I figured out is that I can turn half of the income statement tests on if I simply start at the income statement line item "Income (loss) from continuing operations before tax". I can then test 5 relations, easing into the final reporting style. The code I used was ISNATU0.
When I did created this code and the supporting Excel validator, I realized that almost all 406 IFRS filings have those 5 relations. I have seen only ONE IFRS filing that breaks this pattern, reporting "income (loss) from equity method investments and joint ventures" within their tax provision essentially.
So what I did was put all 406 IFRS filings into one Excel spreadsheet validator and checked the filings consistency with those five rules of the ISNATU0 code. What I found was this:
335 filings, or 83% of all filings, were consistent with all 5 of the income statement rules that I added.
70 filings, or 17% of all filings, were INCONSISTENT with one or more income statement rules.
On a per test basis, 107 (5%) test were inconsistent with expectation and 1,923 (95%) were consistent with expectation. (406 filings times 5 tests).
Of the 107 inconsistencies, I confirmed that 25 were filer errors and documented those errors. That means that actually only 82 are not confirmed to be consistent with expectations (i.e. there could be an error in my test or an error in the IFRS XBRL Taxonomy)
Here are the POSITIVE and NEGATIVE test results for this ISNATU0 set of filings.
Posted
on Monday, August 6, 2018 at 05:00PM
by
Charlie
in Becoming an XBRL Master Craftsman
|
Post a Comment
|
Email
|
Print
I am continuing to piece together a complete financial reporting solution and explain my approach. The most current iteration is this document, General Ledger Trial Balance to External Financial Report.
That document combines information from my first and second explanations. The ultimate goal is to create the framework for implementing a modern finance platform using 100% global standard XBRL technical syntax.
If you want to understand all this, I would recommend three documents:
Computer Empathy: This document provides you with critical background information. If you are an accountant trying to understand all this using the historical financial reporting paradigm you will never understand. The key word here is "digital"; accounting, reporting, auditing, and analysis in a modern digital environment.
Putting the Expertise into an XBRL-based Knowledge Based System for Creating Financial Reports: I am not "paving the goat path" and replicating existing inefficiencies related to old-school paper-based reporting in XBRL-based digital financial reporting software. We are choosing to take a different path. One type of practical knowledge is know-how; how to accomplish something. This document helps you understand how to build a modern finance platform. The key word here is "patterns". Good software engineers understand that patterns provide leverage.
Blueprint for Creating Zero-defect XBRL-based Digital Financial Reports: This document helps you understand how machine-readable rules are used to keep quality ultra-high. Quality will be better than the quality of current processes, procedures, techniques, and philosophies and with lower costs through process automation. The key phrase here is that "business rules prevent information anarchy."
Steven Covey, in his seminal book The Seven Habits of Highly Effective People, says "Begin with the end in mind." (Habit 2). What is the end? Well, these 5,734 US GAAP financial reports and these 406 IFRS financial reports are the end.
If you believe that accounting, reporting, auditing, and analysis will be done in an increasingly digital environment as contrast to the current old-school processes created for paper-based reporting; you may want to wade through the notes that I have been taking for the past 20 years: Intelligent XBRL-based Digital Financial Reporting.
Brand new to XBRL? How XBRL Works is a popular video that explains the basics.
Posted
on Sunday, August 5, 2018 at 08:35AM
by
Charlie
in Becoming an XBRL Master Craftsman
|
Post a Comment
|
Email
|
Print
I am going to do a comprehensive analysis of each of the IFRS reporting styles that are used by the 406 listed companies that submit reports to the SEC. The analysis will use POSITIVE and NEGATIVE evidence to support each reporting style. The evidence includes a working validator that exercises the rules of the reporting style using an Excel spreadsheet that I created. I provide two spreadsheets: one for companies that pass 100% of tests and one that fails one or more tests. I also provide additional documentation. You can get the analysis of IFRS-BSC-ISFUNC6-SCI1-CF1 here in this ZIP file.
The bottom line is the following for this most popular reporting style:
98% of the information in the 92 XBRL-based reports is consistent with my machine-readable validation rules.
62% of filings are consistent with 100% of my machine-readable rules.
I have provided high-quality documentation for 23 confirmed filer errors that is an excellent learning tool. (That is the same document that is in the ZIP file.)
The documenation both explains the filer error and provides links to the actual SEC filing page of the report and to the XBRL Cloud Viewer that enables you to look at XBRL taxonomy information related to the filer error.
If you are not clear on what a reporting style is, I would encourage you to have a look at this documentation which explains each of those funny looking codes that make up a reporting style.
Below is a summary of the reporting styles of all 406 IFRS reports in the set of companies that I am analyzing. I am choose not to analyze all of these reporting styles, but I certainly will analyze the most popular reporting styles.
If you still don't grasp why I am going through all this trouble, you might want to read (or re-read) the Computer Empathy document. Trust me when I say that there is a method to my madness.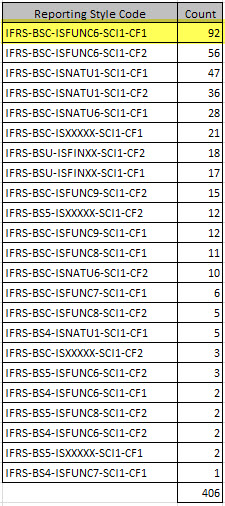 (Click image for detailed information about each reporting style)
Posted
on Friday, August 3, 2018 at 06:03PM
by
Charlie
in Becoming an XBRL Master Craftsman
|
Post a Comment
|
Email
|
Print