BLOG: Digital Financial Reporting
This is a blog for information relating to digital financial reporting. It is for innovators and early adopters who are ushering in a new era of digital financial reporting.
Much of the information contained in this blog is summarized, condensed, better organized and articulated in my book XBRL for Dummies and in the three documents on this digital financial reporting page.
I have made some revisions to my Digital Financial Reporting Manifesto. I tried to simplify the document, fixed some typos, and updated a few things.
This Digital Financial Reporting Manifesto is intended to help professional accountants and other business professionals to contemplate, discuss, otherwise think about, and ultimately understand why and that an option should exist to express a general purpose financial report digitally. We need digital financial reports to do accounting and auditing in the digital age.
Posted
on Monday, July 3, 2017 at 10:27AM
by
Charlie
|
Post a Comment
|
Email
|
Print
In the document Accounting and Auditing in the Digital Age, I try and explain, as succinctly as I possibly can, how three primary enabling technologies will help the medieval tradition of accounting evolve to meet the new operating needs of businesses large and small. Here is the executive summary:
The fourth industrial revolution is occurring which is enabling businesses to operate in significantly different ways; enabling technologies include artificial intelligence, internetworked physical devices, cyber-physical systems, nanotechnology, and biotechnology.
Professional accountants and accounting practices, procedures, and processes will need to adapt. Education and training of professional accountants also needs to adapt.
Humans augmented by machine capabilities, much like an electronic calculator enabling a human to do math quicker, will empower knowledge workers who know how to leverage the use of those machines.
Three primary enabling technological innovations are driving this significant change to the current accounting practices, processes, and methods: XBRL-based structured digital financial reports, knowledge-based systems and other application of artificial intelligence, and blockchain-based distributed ledgers.
While it is difficult to precisely predict the productivity gains which will be realized, initial information is showing the productivity gains will be very, very significant.
Please let me know how I did or if you have ideas for improving this document.
Posted
on Wednesday, June 28, 2017 at 04:31PM
by
Charlie
in Digital Financial Reporting
|
Post a Comment
|
Email
|
Print
Posted
on Thursday, June 22, 2017 at 01:03PM
by
Charlie
in Becoming an XBRL Master Craftsman
|
Post a Comment
|
Email
|
Print
An article, What the future of artificial intelligence in government?, which is based on a study by Dr. Peter Viechnicki, William D. Eggers states the following:
At the high end, we estimate within the next 5-7 years, as many as 1.1 billion working hours could be freed up in the federal government every year, saving a whopping $37 billion annually. Ultimately, AI could potentially free up 30 percent of federal employees' time. State government savings in time and money could be similar percentages.
The study, How much time and money can AI save government?, is worth reading. The study measured what government employees do at a task level. One of the more interesting things is information about the US Geological Survey, the folks that make maps. Here is that section:
How cartography went digital

The US Geological Survey (USGS) began producing topographic maps of the nation in 1879 and for most of its history, it printed its maps on paper. If you were an active hiker or camper in the 1980s, you'll likely remember shelves and shelves of USGS topo maps at outdoor stores, but over the following decade, USGS transformed its mapmaking techniques by embracing digital map production. This transformation, which relied on a major Reagan-era investment in geospatial information systems technology, was disruptive and productive. It significantly improved the efficiency of production—and completely changed the nature of cartographers' jobs.

Before the transformation, USGS cartographers worked as skilled craftsmen, performing painstaking tasks such as drawing elevation contours on acetate sheets. Today, their duties primarily involve collecting and disseminating digital cartographic data through the National Map program.

Today, USGS officials recall a bumpy transformation. Veteran cartographer Laurence Moore says, "We were slow to appreciate how fundamentally GPS and digital map data would change the world, and tended to think of these technologies as just tools to produce traditional maps faster and cheaper."

Today, the agency employs only a tenth of the cartographers working there at the peak of the paper-map production era. But paradoxically, the total number of cartographers and photogrammetrists employed by federal, state, and local governments has risen by 84 percent since 1999. And the Bureau of Labor Statistics forecasts a 29 percent growth in employment for cartographers and photogrammetrists through 2024, largely due to "increasing use of maps for government planning."
The article and the study help professional accountants wrap their heads around what is about to happen to them.
Posted
on Friday, June 9, 2017 at 02:41PM
by
Charlie
in Digital Financial Reporting
|
Post a Comment
|
Email
|
Print
The quality improvement trend continues. There are currently 10 software generators and filing agents that have 90% or more of their XBRL-based public company financial reports consistent with all of the fundamental accounting concept relations continuity cross-checks. Average is 87.9%. On a per test basis, 99.19% of all relations are consistent with expectation.
Here are the current results of my measurements: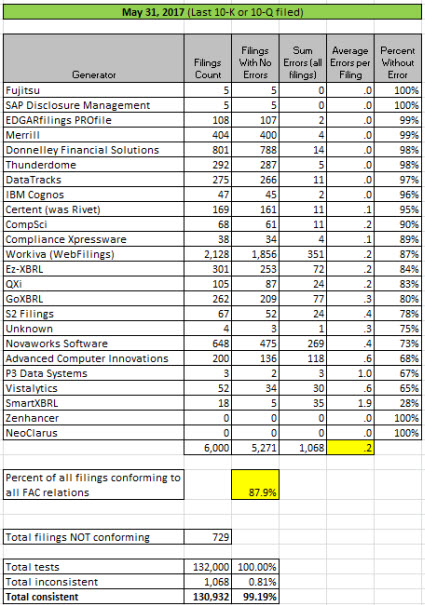 The biggest notable item is that Workiva went from 84% consistency to 87% consistency, fixing about 114 specific errors.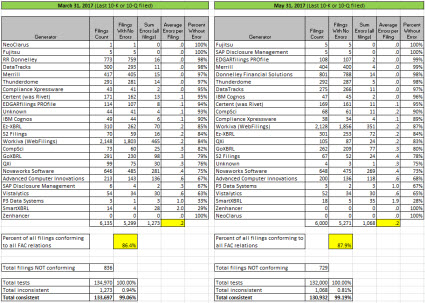 (Click image for larger view)
**********************PRIOR RESULTS**********************
Previous fundamental accounting concept relations consistency results reported: March 31, 2017; November 28, 2016; August 31, 2016; June 30, 2016; March 31, 2016; February 29, 2016; January 31, 2016; December 31, 3015; November 30, 2015; October 31, 2015; September 30, 2015; August 31, 2015; July 31, 2015; June 30, 2015; May 29, 2015; April 1, 2015; November 29, 2014.
Posted
on Friday, June 2, 2017 at 07:20AM
by
Charlie
in Becoming an XBRL Master Craftsman
|
Post a Comment
|
Email
|
Print