Public Company Quality Continues to Improve, 84% are Consistent
Friday, July 1, 2016 at 07:22AM
Charlie in Becoming an XBRL Master Craftsman
The quality of XBRL-based public company financial reports to the SEC as measured using a set of about 22 fundamental accounting concept relations continues to improve. Several software vendors/filing agents are closing in on 100% consistency with these basic expected accounting relationships.
About 84% of all public company financial filings are consistent with what is expected for these fundamental accounting concept relations.
Note that I am going to start publishing this information once every quarter or when important milestones are met.
Breakdown by software vendor/filing agent:
Breakdown by individual test: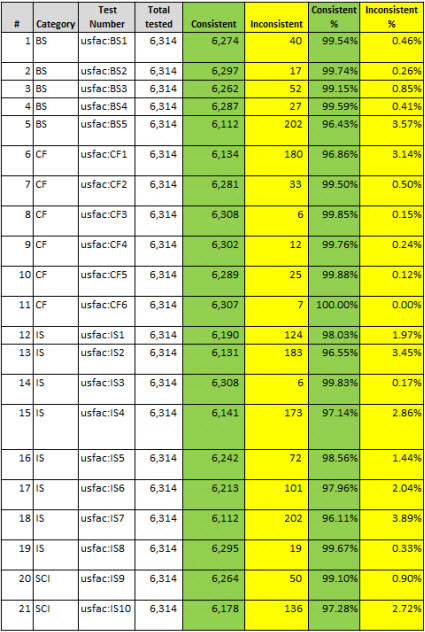 (Click image for larger view and more details)
Comparison of Current Results with 2015 and 2014 End of Year Results: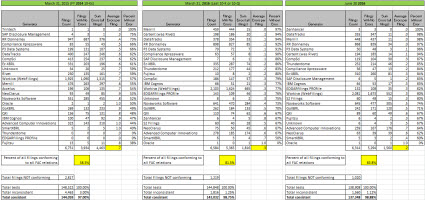 (Click image for larger view)Be sure to read this updated version of the conceptual overview of XBRL-based structured digital financial reports. Also, this updated outline of knowledge engineering basics for accounting professionals helps you understand why quality matters.
* * * PRIOR RESULTS * * *
Previous fundamental accounting concept relations consistency results reported: March 31, 2016; February 29, 2016; January 31, 2016; December 31, 3015; November 30, 2015; October 31, 2015; September 30, 2015; August 31, 2015; July 31, 2015; June 30, 2015; May 29, 2015; April 1, 2015; November 29, 2014.
Article originally appeared on Intelligent XBRL-based structured digital financial reporting using US GAAP and IFRS (http://xbrl.squarespace.com/).
See website for complete article licensing information.