The quality of XBRL-based public company financial reports as measured using a set of fundamental accounting concept relations declined slightly, but one generator reached the point where 97% of all their customer digital financial reports were completely consistent with that measure.
Here is the summary: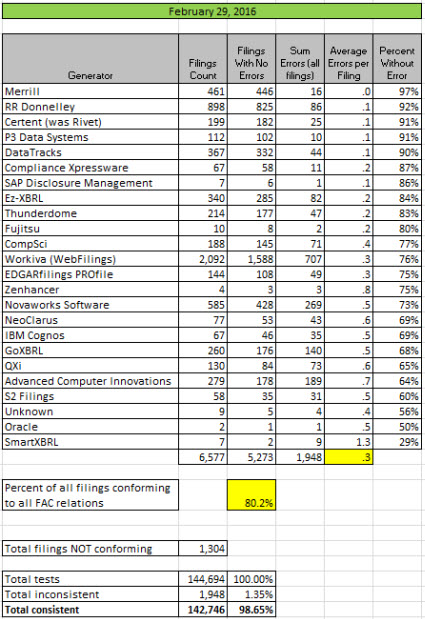 (Click image for larger view)
What seemed to cause the slight decline in overall quality was the fact that many 10-K reports were submitted to the SEC this past month. Filing agents and software vendors seem to use different report templates for a 10-K and 10-Q report. Those different templates seem out of sync and errors creep into the 10-K that did not exist in the 10-Q. Another problem is that information from the disclosures in a 10-K which is more comprehensive than a 10-Q conflicts with information represented in the primary financial statements. These sorts of inconsistencies look like the following when you compare quality results across filing periods:

(Click image for a larger view)
There is another trend which is very, very positive. Some public companies have the same inconsistency period, after period, after period. Lots of these long-standing inconsistencies are being fixed. Here are three examples of this. What you see is a list of XBRL-based public company filings in descending order. GREEN means no inconsistencies (a good thing), and ORANGE means that an inconsistency exists.
Alaska Airlines: (Notice the same inconsistency in EVERY prior filing, but the latest filing corrects that long standing inconsistency)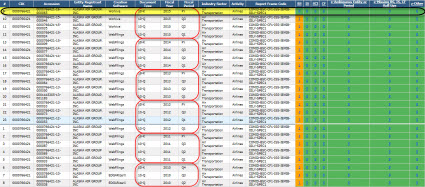 (Click image for larger view)
Verizon: (Notice how Verizon had no inconsistencies, then some inconsistencies creep in, then they were fixed, then some more crept in, then another inconsistency, and ultimately all inconsistencies got fixed)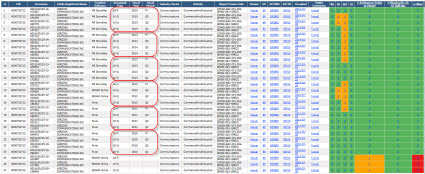 (Click image for a larger view)
Boeing: (Note that Boeing had TWO inconsistencies, but only fixed ONE of them; so one inconsistency remains)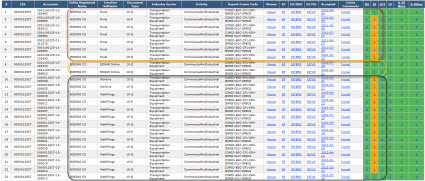 (Click image for a larger view)
IBM: (This shows a lot of fluctuation and therefore it is unlikely automated processes are being used to watch over this financial filing)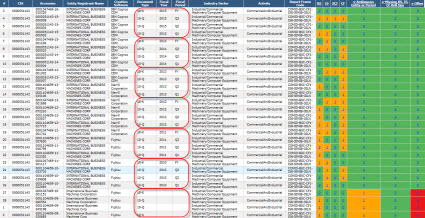 (Click image for larger view)
Can public companies get their XBRL-based digital financial reports dialed in? Of course they can. Look here at Google's, Apple's, Walker & Dunlap history; each has always been 100% consistent with the fundamental accounting concept relations. Quality is measurable.
What is the holy grail of verification to help public companies dial in their XBRL-based digital financial reports? Well, this is some brainstorming that I have done as to that holy grail.
If you look at those screenshots you can see how easy it is to see if an inconsistency exists and then take steps to fix the inconsistency. Filing agents and software vendors that cannot manage quality have process/system problems.
This narrative describes the prototype that I created and has links to the minimum criteria that I use to evaluate the fundamental quality of XBRL-based digital financial reports.
So Merrill has achieved a level of 97% quality. Their quality improved while the quality of most other generators (filing agents, software vendors) declined. They did not seem to be impacted by the 10-K/10-Q synchronization issue. Merrill seems to be fixing not only filings, but their entire process.
* * *
Previous fundamental accounting concept relations consistency results reported: January 31, 2016; December 31, 3015; November 30, 2015; October 31, 2015; September 30, 2015; August 31, 2015; July 31, 2015; June 30, 2015; May 29, 2015; April 1, 2015; November 29, 2014.
Posted
on Wednesday, March 2, 2016 at 12:40PM
by
Charlie
in Becoming an XBRL Master Craftsman
|
Post a Comment
View Printer Friendly Version
Email Article to Friend