BLOG: Digital Financial Reporting
This is a blog for information relating to digital financial reporting. This is my brain storming platform. This is where I think out loud (i.e. publicly) about digital financial reporting. It is for innovators and early adopters who are ushering in a new era of accounting, reporting, auditing, and analysis in a digital environment.
Much of the information contained in this blog is synthasized, summarized, condensed, better organized and articulated in my book XBRL for Dummies and in the chapters of Intelligent XBRL-based Digital Financial Reporting. If you have any questions, feel free to contact me.
In prior blog postsI have pointed out that XBRL Formulas have some specific deficiencies. One of those deficiencies involves chaining. XBRL Formula processors cannot do forward or backward chaining.
Well, there is a way you can achieve a similar result using XBRL Formula. What you can do with an XBRL Formula processor is "chain" a process together. Now, you have to put everything in the right order because XBRL Formula processors cannot do forward or backward chaining as I have pointed out.
The objective is to duplicate these fundamental accounting concept relations continuity cross checks. All of these Excel extraction tools similarly use sequential processes as opposed to forward or backward chaining.
Here is how you do that validation using XBRL Formula:
And there you have it! While it is true that a human has to string the rules together in the correct order and that this process is not that effecient because you have to reload XBRL instances multiple times; this process does work and so it is effective.
What this example also clearly demonstrates is that there is a use case for deriving facts that were not reported so that consistency checks can be executed. If it is the case that information about unreported facts cannot be determined, the XBRL instance is fundamentally unusable by automated processes. At the same time, this shows that information can be used by automated processes since you can chain the process together effectively.
I have run this or had this run through the UBmatrix and Fujitsu XBRL Formula Processors. I am going to try and get this run through two more processors to confirm that this works consistently.
Posted
on Wednesday, April 24, 2019 at 11:26AM
by
Charlie
in Becoming an XBRL Master Craftsman, Demonstrations of Using XBRL
|
Post a Comment
|
Email
|
Print
People are starting to value quality. In an excellent article, A New Approach to Data Quality: Preparing for a RegTech, SupTech and AI Future, DFIN Solutions (Donnelley) make two important points.
The first point is this: (emphasis is mine)
Global reporting and compliance have remained document-bound for too long. With recent advances in artificial intelligence (AI) and other forms of machine learning, however, companies are poised to meet their regulatory and compliance requirements in completely new ways.
The article points out that humans are no longer the primary consumers of information. For example, the SEC says that 85% of the documents visited in their EDGAR filing system are machines.
Second, they say is to make quality paramount. The article goes on to give numerious specific ways to improve the quality of reported information. Why is the need for quality so important? Because machines are dumb and if the information is not of high quality, the information those machines are using is basically garbage and not usable.
Posted
on Tuesday, April 23, 2019 at 10:14AM
by
Charlie
in Becoming an XBRL Master Craftsman
|
Post a Comment
|
Email
|
Print
Posted
on Tuesday, April 23, 2019 at 10:08AM
by
Charlie
|
Post a Comment
|
Email
|
Print
One form of knowledge is know how. Know how is practical knowledge about how to accomplish something.
It has taken roughly 10 years, but I can now say that the implementation framework for XBRL-base financial reporting is complete, tested, and proven to work. All of this framework has been implemented in a working proof of concept by one software engineer and a very signification portion of the framework has been implemented in at least one commercial software product, XBRL Cloud.
This open source framework is useful for creating financial reports, verifying that the reports were created correctly, analyzing or otherwise using information from reports, and processes that feed information into a process that provides information that will end up within a report.
Why is this important? It is important because while others can talk about things like "financial transformation" and the "modern finance platform" and visions such as "The Finance Factory" and "accounting process automation" and all the other ways that technologies like artificial intelligence are going to impact accounting, reporting, auditing, and analysis; I don't have to just talk. I can show. I can make this tangible. I have helped a handful of people develop the know how. We know that all this can work and we know how to make this work effectively.
Others have been focused on helping companies meet regulator mandates; regulators that are not too concerned with quality or efficiency or effectiveness. Others have been developing know how in the wrong areas in my view. Software vendors that do not have the capability to deliver high-quality can never creating something that will work. Reliability and high-quality is a fundamental capabilities, they are requirements.
Here is the stuff that will be automated: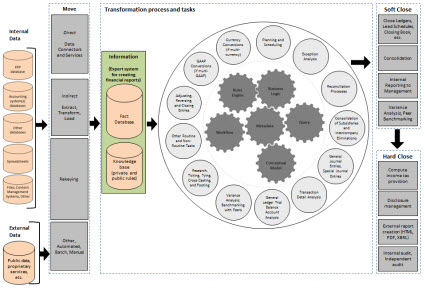 (Click image for larger view)
Posted
on Saturday, April 20, 2019 at 07:36AM
by
Charlie
in Becoming an XBRL Master Craftsman
|
Post a Comment
|
Email
|
Print
Posted
on Wednesday, April 17, 2019 at 07:36AM
by
Charlie
in Becoming an XBRL Master Craftsman
|
Post a Comment
|
Email
|
Print