BLOG: Digital Financial Reporting
This is a blog for information relating to digital financial reporting. This is my brain storming platform. This is where I think out loud (i.e. publicly) about digital financial reporting. It is for innovators and early adopters who are ushering in a new era of accounting, reporting, auditing, and analysis in a digital environment.
Much of the information contained in this blog is synthasized, summarized, condensed, better organized and articulated in my book XBRL for Dummies and in the chapters of Intelligent XBRL-based Digital Financial Reporting. If you have any questions, feel free to contact me.
Posted
on Sunday, November 25, 2018 at 01:34PM
by
Charlie
|
Post a Comment
|
Email
|
Print
There is now a fourth source that has created capabilities for measuring/evaluating the quality of XBRL-based financial reports. Here is a list of the sources:
What would be very interesting is to combined the information from these sources to create a composite measurement of quality. XBRL Cloud comes the closest to that because they include my rules, XBRL US Data Quality Committee rules, Edger Filer Manual Rules, XBRL technical syntax rules, and other rules.
Maybe I will work on that. Perhaps this composite measurement could be done as of March 31 each year, after the 10-K filing season.
For more information related to XBRL-based report quality see Blueprint for Creating Zero-defect XBRL-based Digital Financial Reports.
Posted
on Friday, November 23, 2018 at 06:59AM
by
Charlie
in Becoming an XBRL Master Craftsman
|
Post a Comment
|
Email
|
Print
This video if the ESEF provides a particularly good explanation of the relationship between XHTML, XBRL, and Inline XBRL.
XBRL is an XML language. XML is really a family of languages/technologies which includes in part: XML Names, XML Base, XPath, XPointer, XLink, XML Schema, XSLT, XHTML (which is an application of XML).
XML is an ISO standard: ISO 8879:1986 "Information processing -- Text and office systems -- Standard Generalized Markup Language (SGML)".
XHTML, an application of XML, is likewise conformant to ISO 8879:1986.
Since XML is conformant to ISO 8879:1986 and XHTML is conformant to ISO 8879:1986; it seems to me that it can be said that both raw XBRL and Inline XBRL are conformant to ISO 8879:1986.
Posted
on Monday, November 19, 2018 at 08:21AM
by
Charlie
in Becoming an XBRL Master Craftsman
|
Post a Comment
|
Email
|
Print
A notion that makes things achievable which would otherwise not be achievable if it did not exist is the disclosure. As I am using the term a disclosure is simply some set of information that is disclosed within a financial report.
Some accountants might argue, "The primary financial statements are not a disclosure." Such an argument would be pedantic and would miss the main point.
The point is this: There is some term that can be used to describe all the sets of facts that are provided within a financial report. I am using the term "disclosure". I would be happy to use some better term if someone can point out that term. Until then, I will stick with the term disclosure.
Again, a disclosure is simply some set of information that is disclosed within a financial report. That set could contain ONE single or complex fact or MANY single or complex facts. The important thing to note is that a disclosure is a set and every fact that is reported within a financial report fits into some set.
I have created a list of such disclosures. Here is that list for US GAAP in machine-readable form, an XBRL taxonomy schema. And here is that list of disclosures in human-readable form organized within a set of topics that helps to organize the long list of disclosures.
Here is a subset of that list of US GAAP disclosures. That is in machine-readable form. Here is another version of that same list of 68 disclosures in RSS which is both machine-readable and human-readable.
The RSS list is interesting because it cross references the disclosures to a other information: the US GAAP XBRL taxonomy, templates for the disclosure, exemplares of the disclosures in public company financial XBRL-based filings, and some other sets of information.
One interesting set of information is the templates. A template is basically a prototype of a disclosure. I have templates for a majority of the 68 disclosures in my working set. I provide the list in machine readable form, in human readable, and in a ZIP archive which you can download.
Templates are particularly useful. A template is essentially an XBRL instance, the XBRL taxonomy that supports that XBRL instance, and the business rules that enforce the mathematical relations within the disclosure.
I have created such template libraries for US GAAP, IFRS, and my XASB reporting scheme prototype:
All of these templates for US GAAP, IFRS, and the XBRL reporting schems are represented consistently in XBRL.
Another notion is that of the exemplar. An exemplar is an example of a disclosure from some existing financial report. I have created exemplars libraries for US GAAP, IFRS, and XASB reporting scheme prototype (for more information on US GAAP and IFRS see here:
It is utterly trivial to access the approximately 500,000 pieces of the 6,000 US companies that file to the SEC using US GAAP and the 40,000 pieces of the 400 foreign issuers that file to the SEC using IFRS. I can access those by report or by disclosure.
Here is some experimentation. These sets of XBRL-based report fragments have some XBRL technical syntax issues that I have not resolved yet, but they help you see the opportunity:
Microsoft 2016 10-K: The RSS feed provides pointers to the 127 networks that make up the 10-K of Microsoft. Rather than being combined into ONE report, they have been represented as individual XBRL instances and the related XBRL taxonomies.
Balance sheets: This RSS feed provides pointers to 33 balance sheets which were extracted from 33 different XBRL-based reports to the SEC.
What is my point here? The XBRL-based reoprts in the SEC EDGAR system is a machine-readable library, a knowledge base, of US GAAP and IFRS financial disclosures that can be leveraged. The approximately 6,000 XBRL-based 10-Ks of public companies that report under US GAAP are made up of about 500,000 separate networks. The approximately 400 XBRL-based 20-F and 40-F filings of foreign issuers that report under IFRS are made up of about 40,000 separate networks.
Those existing report are excellent templates and exemplars for creating new reports. Someone told me that CPA stands for "copy, paste, adjust" meaning that accountants often use existing reports to create new reports or a disclosure that is new to an existing report. XBRL offers a way to do this significantly more effeciently! Existing reports are a database of examples of how to create reports.
You can organize the templates and exemplars in an easy to understand software interface: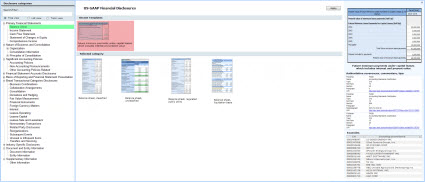 (Click image for larger view)
Templates and exemplars are explained further in my document Putting the Expertise into an XBRL-based Knowledge Based System for Creating Financial Reports.
This is an excellent feedback loop!
Posted
on Thursday, November 8, 2018 at 08:00AM
by
Charlie
in Becoming an XBRL Master Craftsman
|
Post a Comment
|
Email
|
Print
People say that the "old school" processes of creating financial reports should be improved, but they offer no new tools that are better, faster, or cheaper than the currently existing tools that are in use.
The problem is well understood. This statement, paraphrasing the NASBP, explains the problem succinctly: "The gruesome, grueling, painful process of re-keying of data."
So, what is the solution? Things are starting to get more tangible. Again, the NASBP points to where a "20 minute task was turned into a 3 second task" by leveraging standards. I will get back to the standards in a moment.
How can that sort of process improvement be achieved?
Some of the best examples of an existing commercial product that helps you understand the epic changes that are coming to accounting, reporting, auditing, and analysis come from Blackline. I put together this video play list titled Financial Transformation and the Modern Finance Platform that helps you understand these changes. Blackline uses phrases such as "accounting process automation" and "continuous accounting" and "smart close" and "financial transformation" and "the modern finance platform".
What sort of improvements can you expect? Yesterday I wrote a blog post about an experiment that I wanted someone to do so that they can understand something. Part of that experiment is extracting high-level financial information from 5,734 public company financial statements. It took only 3 hours to extract 46 high level pieces of financial information and verify that the information was correct. To perform that same task 10 years ago, before XBRL was used to report financial information to the SEC took maybe let's say 1 hour per financial report, so somewhere around 5,734 man hours. Let's use that number.
So above I mentioned a 20 minute task that was turned into a 3 second task to enter information. Extracting information went from a 5,734 hour task to a 3 hour task. (You can re-run that process yourself using this spreadsheet.)
How is that possible? The answer is standards. Think about the shipping container standard and how that impacted the world.
Now, technology changes such as artificial intelligence, structured information, and distributed ledgers will have an impact. But it is standards that will cause the big changes technology is bringing to become epic changes with influence that is hard to imagine.
I don't have all of this figured out yet, but I have been brainstorming how to build the modern finance platform.
And I have put together a group that is creating the Accounting Process Automation XBRL Application Profile specification or standard. While several members of the group have built pieces that improve upon the current processes; the intent of this group is to enable the creation of things that are even better and help things interoperate even more. We want to build reliable, dependable, safe, powerful, practical software that is proven to work.
If you might be interested in participating in this group, please contact me or request to be added to this Google Group.
Posted
on Friday, November 2, 2018 at 08:38AM
by
Charlie
in Digital Financial Reporting
|
Post a Comment
|
Email
|
Print