BLOG: Digital Financial Reporting
This is a blog for information relating to digital financial reporting. This is my brain storming platform. This is where I think out loud (i.e. publicly) about digital financial reporting. It is for innovators and early adopters who are ushering in a new era of digital financial reporting.
Much of the information contained in this blog is synthasized, summarized, condensed, better organized and articulated in my book XBRL for Dummies and in the chapters of Intelligent XBRL-based Digital Financial Reporting. If you have any questions, feel free to contact me.
Posted
on Monday, August 27, 2018 at 06:39PM
by
Charlie
in Becoming an XBRL Master Craftsman
|
Post a Comment
|
Email
|
Print
The World Economic Forum published a 167 page report, The New Physics of Financial Services – How artificial intelligence is transforming the financial ecosystem, which you can download. (This is a direct link to the report.)
Artificial intelligence is fundamentally changing the physics of financial services. It is weakening the bonds that have held together the component parts of incumbent financial institutions, opening the door to entirely new operating models and ushering in a new set of competitive dynamics that will reward institutions focused on the scale and sophistication of data much more than the scale or complexity of capital.

A clear vision of the future financial landscape will be critical to good strategic and governance decisions as financial institutions around the world face growing competitive pressure to make major strategic investments in AI and policy makers seek to navigate the challenging regulatory and social uncertainties emerging globally.

Building on the World Economic Forum's past work on disruptive innovation in financial services, this report provides a comprehensive exploration of the impact of AI on financial services.
Wow! That is all I can say right now.
Posted
on Friday, August 24, 2018 at 08:09AM
by
Charlie
in Digital Financial Reporting
|
Post a Comment
|
Email
|
Print
Posted
on Monday, August 20, 2018 at 08:13AM
by
Charlie
in Becoming an XBRL Master Craftsman
|
Post a Comment
|
Email
|
Print
Imagine that you actually wanted to make use of XBRL-based information for analysis of the financial information of companies. What exactly would you need to do?
First, you have to perhaps go to the RSS feed the SEC provides for filings. You have to grab the filings you want to analyze. You have to get the information from the filings. You have to adjust for errors in the information. Etc.
Well, here is some data to play with. This is for a set of 15 companies, about 8 years of machine readable information, all 15 entities use exactly the same reporting style, I picked companies where there is a minimal amount of errors in the reports so there is not a lot of adjustments needed for mistakes.
Here is a test set of filings that you can use. I provide pointers to the filings. I have tested the information to make sure there are not many errors. The information is for 15 banks, each of their filings, 10-Qs and 10-Ks since the SEC started using XBRL:
Let me know what you come up with.
Posted
on Thursday, August 16, 2018 at 07:52AM
by
Charlie
in Becoming an XBRL Master Craftsman
|
Post a Comment
|
Email
|
Print
In September 1998, at about 10 AM or so, I started a presentation to the AICPA High Tech Task Force related to XML-based financial reporting. By noon that same day a plan was in place to get Barry Melancon, president of the AICPA then and today, to approve the creation of a prototype to test the idea. That September meeting started a process of what was to become XBRL.
Almost 20 years later, I have personally achieved what it was that I wanted to achieve: creation of an expert system for creating financial reports. That software was created by Hamed Mousavi, a software engineer, and myself. It took us almost five years. Most of that time related to figuring out how to do it. I explain to software engineers and professional accountants how we did this in the document, Guide to Building an Expert System for Creating Financial Reports.
Are their better ways? It is hoped that the ideas Hamed and I are sharing in this document will start a discussion and that the collective wisdom of the institution of accountancy will correct what we may have gotten incorrect.
Most of the ideas in this document come from discussions and feedback that we received over the past 15 or so years from many, many colleagues who are too numerous to list. In gratitude for that assistance we make this information available. That input was critical to shaping the thoughts and ideas expressed in this document. Collectively, thank you to the entire XBRL community!
Sedona, Arizona; September 1998: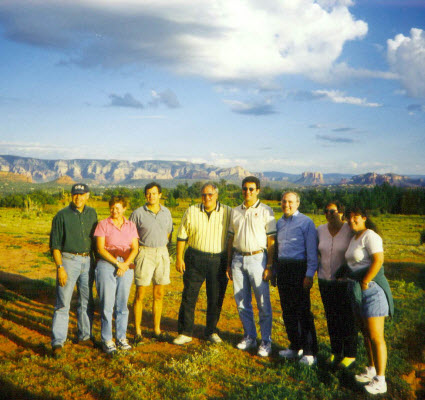 (Click image for larger view)
Stay tuned to see accounting, reporting, auditing, and analysis change to better operate in a digital environment.
Posted
on Wednesday, August 15, 2018 at 09:28AM
by
Charlie
in Digital Financial Reporting
|
Post a Comment
|
Email
|
Print