BLOG: Digital Financial Reporting
This is a blog for information relating to digital financial reporting. This is my brain storming platform. This is where I think out loud (i.e. publicly) about digital financial reporting. It is for innovators and early adopters who are ushering in a new era of digital financial reporting.
Much of the information contained in this blog is synthasized, summarized, condensed, better organized and articulated in my book XBRL for Dummies and in the chapters of Intelligent XBRL-based Digital Financial Reporting. If you have any questions, feel free to contact me.
It is really, really hard to figure out if the claims people make about artificial intelligence (AI) will come to pass. This article, Self-driving cars are headed toward an AI roadblock, highlights 2015 predictions about when self-driving cars would be on the road. Per those predictions, we should be seeing more driverless cars than we are seeing.
So, what is the problem? In a word: quality. Consider the following excerpt from the above article:
But the dream of a fully autonomous car may be further than we realize. There's growing concern among AI experts that it may be years, if not decades, before self-driving systems can reliably avoid accidents. As self-trained systems grapple with the chaos of the real world, experts like NYU's Gary Marcus are bracing for a painful recalibration in expectations, a correction sometimes called "AI winter." That delay could have disastrous consequences for companies banking on self-driving technology, putting full autonomy out of reach for an entire generation.
How do you evaluate the claims and predictions people pushing technology make? The answer is understanding the details. That is why documents such as Computer Empathy are important. Today the world is full of people making predicts and claims but there are fewer that are actually delivering the goods. If you really want to evaluate the predictions and claims of the snake oil salesmen trying to separate you from your money; then pay attention to the details.
It really is that simple. It may not be easy if you have not been paying attention, you might have some catching up to do.
Don't get me wrong. AI will work. The question is what are the true capabilities. Me, I am focusing on the easy end of the spectrum of AI functionallity, expert systems. Expert systems is already a proven technology.
Posted
on Monday, July 9, 2018 at 10:32AM
by
Charlie
in Digital Financial Reporting
|
Post a Comment
|
Email
|
Print
The following is a summary of the quality measurements of XBRL-based US GAAP financial reports submitted to the SEC as of June 30, 2018. The following Excel spreadsheets and other documents provide details related to these quality measurements:
Positive results from tests (i.e. proof): Set of Excel spreadsheets contained in a ZIP archive that lets you duplicate testing, proving that over
Negative results from tests (i.e. confirmed errors): Details of 100% of the confirmed errors. 974 errors contained with 639 filings.
Accounting errors discovered during validation process: This PDF provides details of rather obvious accounting errors that exist in the financial reports of public companies. This validation process leads to the detection of such errors.
Prototype validation tools: Some working prototype, proof-of-concept validation tools you can use. Only provided for one reporting style. I added a "line of reasoning" text file that helps you review the validation results.
US GAAP Rules: Current publicly available version of the validation rules by reporting style for US GAAP. As of March 31, 2018. Contact me if you want the most current version.
IFRS Rules: Current publicly available version of the validation rules by reporting style for IFRS.
Templates: A financial report can be broken down into fragments. The same techniques for validating the primary financial statements also applies to other disclosures, only the rules are different.
US GAAP fundamental accounting concept relations continuity cross check validation results for last 10-K or 10-Q filed by generator of the report as of June 30, 2018: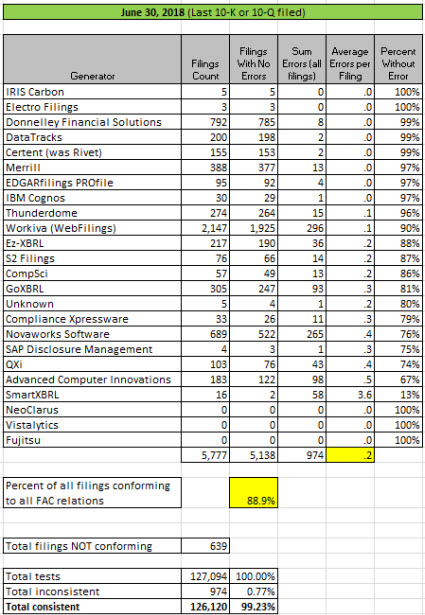 (Click image for larger view)
US GAAP fundamental accounting concept relations continuity cross check by logical accounting relation tested (same filings as above):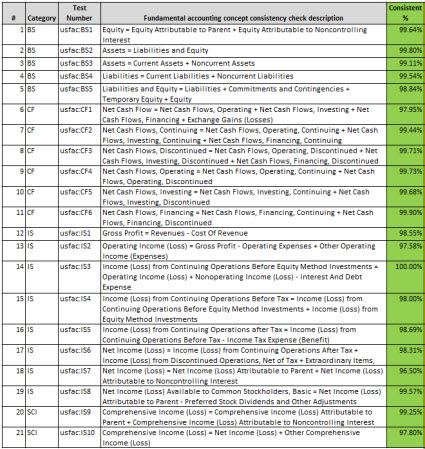 (Click image for larger view)
Comparison of the prior results as of March 31, 2018 and the current results as of June 30, 2018 by generator: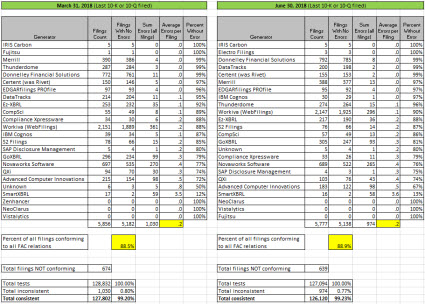 (Click image for larger view)
NEW!!! IFRS Fundamental Accounting Concept Relations (Work in Progress) I am going to start testing IFRS filings also! These results are a work in progress but very accurate. I have all the balance sheet and cash flow statement reporting styles working; but I only have a couple of the income statement reporting styles working.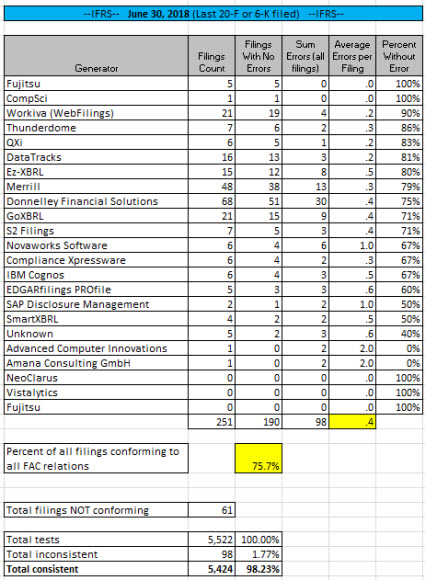 (Click Image for Larger View)
**********************PRIOR RESULTS**********************
Previous fundamental accounting concept relations consistency results reported: March 31, 2018; November 30, 2017; August 31, 2017; May 31, 2017; March 31, 2017; November 28, 2016; August 31, 2016; June 30, 2016; March 31, 2016; February 29, 2016; January 31, 2016; December 31, 3015; November 30, 2015; October 31, 2015; September 30, 2015; August 31, 2015; July 31, 2015; June 30, 2015; May 29, 2015; April 1, 2015; November 29, 2014.
Information helpful to understanding errors, learn how to create quality XBRL-based digital financial reports.
Blueprint for Creating Zero-defect XBRL-based Digital Financial Reports, helps you understand how to test other aspects of a digital financial report.
Computer Empathy, the best way to get dialed into accounting, reporting, auditing, and analysis in a digital environment.
Posted
on Friday, June 29, 2018 at 03:50PM
by
Charlie
|
Post a Comment
|
Email
|
Print
Posted
on Sunday, June 24, 2018 at 05:45PM
by
Charlie
in Digital Financial Reporting
|
Post a Comment
|
Email
|
Print
Posted
on Thursday, June 21, 2018 at 07:39AM
by
Charlie
in Creating Investor Friendly SEC XBRL Filings
|
Post a Comment
|
Email
|
Print
I used to call them "reporting frames" or "reporting pallets". Now I call them "reporting styles". If you want to understand reporting styles, read this document.
I built the US GAAP reporting styles first. Now I am creating IFRS reporting styles. Here are both sets:
One thing that I want to revise is the coding scheme that I use. The coding scheme that I have now for US GAAP just evolved as I methodically created the reposting styles. Now that I see all the moving parts, in retrospect I wish I would have done a few things differently. I am going to make those changes for IFRS. I have not done so yet, but I am going to go back and revise the coding scheme.
Another thing that I am recognizing is that these fundamental accounting concept relationships and the reporting styles are not only useful for validating XBRL-based reports to make sure they are created correctly; the machine-readable metadata is also useful for extracting information from the filings AND for doing comparisons between IFRS and US GAAP reports.
Here are the mappings for one reporting style for US GAAP. And here are mappings for that same reporting style for IFRS. The IFRS and US GAAP concepts are different; but the FAC (fundamental accounting concepts) are the same. Unfortunately, I used different schemas and different namespaces for IFRS and US GAAP. I will fix that.
So, here are the impute rules and consistency cross check rules: IFRS | US GAAP. Those rules are essentially the same. There are a couple of differences because IFRS does not use "commitments and contingencies" and "temporary equity" as US GAAP does. (Note that extraordinary items was dropped from US GAAP, so that needs to be removed from my FAC concepts and rules.)
Basically, I believe that I can create one set of impute/consistency rules that will work for US GAAP and IFRS for some reporting styles. For others, probably not. Time will tell.
Also, note that the versions above use the OLD SYNTAX of articulating the impute and consistency cross check rules. Note that the rules are basically a controlled natural language with information stored in a text file.
The NEW SYNTAX is 100% pure XBRL. Here is the new style for both US GAAP and IFRS:
US GAAP (Currently supports the most used 67 of the approximately 99 reporting styles that exist in the old syntax.)
IFRS (Currently supports only ONE reporting style for the new syntax; that was created to test the new syntax and make sure I was creating these correctly in our software.)
If this is a bit confusing, sorry. I am figuring this stuff out as I create it. That is how it works being on the leading edge. Sometimes you have to backtrack because you went the wrong way.
Posted
on Tuesday, June 12, 2018 at 07:38AM
by
Charlie
in Becoming an XBRL Master Craftsman
|
Post a Comment
|
Email
|
Print