You have to use your imagination, but I believe that the San Francisco Chronicle iPad application offers clues as to how a digital financial report, or digital business report in general, viewer might work.
Again, a reminder to use your imagination as you look at some screen shots from my iPad. This is the main screen of the report as exemplified by the front page of the San Francisco Chronicle: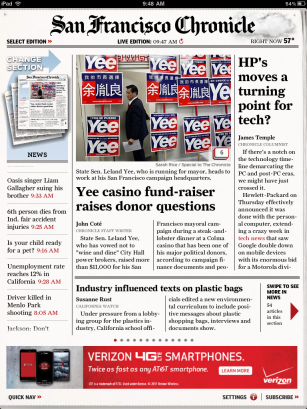 Notice the "QUICK NAV >>" link in the bottom left corner. Click on that link and a navigation window appears which shows the different sections of the financial report. You may have the same categories as the SEC XBRL interactive data viewer "Document", "Statement", "Disclosures". Or, perhaps throw in a few more such as breaking down "Disclosures" into "Entity Information", "Basis of Presentation", "Significant Accounting Policies", "Financial Statement Account Disclosures", and "Broad Transaction Categories Disclosures" similar to the FASB conceptual framework. Or, organize the information as you see fit, what drives the organization is metadata such as RDF/OWL: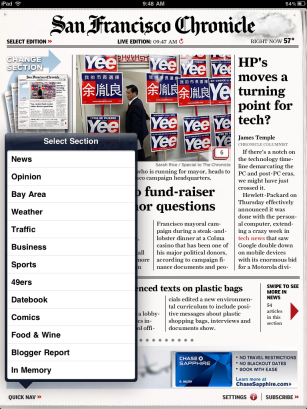 Alternatively, you can scroll from section to section of the digital financial report using the iPad scrolling mechanism or by clicking your mouse if you are on a laptop or desktop which does not have the iPad-type functionally: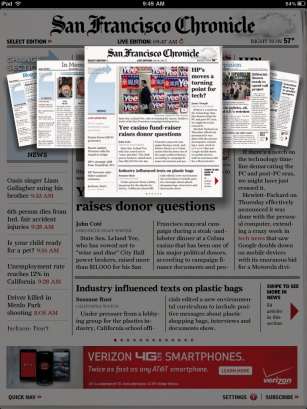 You can do many, many other things such as look at the fact table view of the information which would look a lot like the data set of an Excel pivot table, check out the underlying taxonomy for the financial report, examine the business rules which articulate the numeric relationships, you could organize reports similar to how an iPad organizes photos, you could compare financial reports using similar easy to use features.
I could go on and on, but I think I will stop here; don't want to give away the store.
If you have an iPad, download the app above from the App Store and try it out, you can get a free 14 day trial. Or if you don't have an iPad but live near an Apple Store, try this out there.
If you have any other ideas post them as comments on my blog.
Posted
on Saturday, August 20, 2011 at 07:55AM
by
Charlie
in Demonstrations of Using XBRL
|
Post a Comment
View Printer Friendly Version
Email Article to Friend