I created a nifty new prototype analysis summary. This is looking pretty good already. Here is a test of this format using the Fortune 100. This first list is all of the Fortune 100, a total of 38 public companies, which pass 100% of the fundamental accounting concept conformance tests: (Click on the image to go to the web page)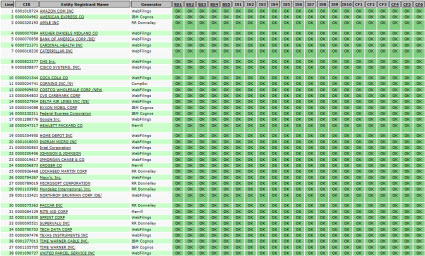 (Click image to go to web page)
So above you can see that all the cells are GREEN. That means everything is OK.
Below you see cells that are RED and YELLOW. This list of members of the Fortune 100 who have one or more issues with their digital financial report. A total of 62 have one or more issues.
The RED cells indicate that there is some sort of issue, but I have not verified the issue manually net. The conformance tests are very good at detecting most issues. There are a handful that are not tuned properly yet. The YELLOW cells are issues and you can CLICK on the issue and see an explanation of the issue. Try it out, it is pretty slick.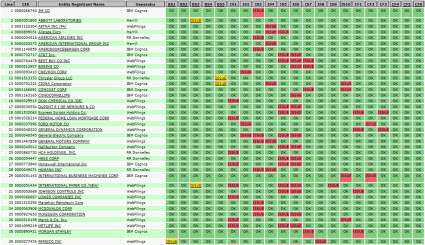 (Click image to go to web page)
And here is a list of all the public companies in the Fortune 100. One more thing worth pointing out. At the top of the pages; you can click on the conformance rule code such as BS1 and navigate to a document that explains the rule and provides an analysis of entities who conform or do not conform to the rule which helps you understand the rule.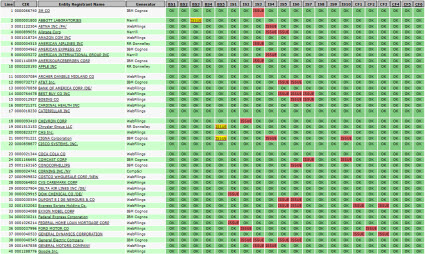 (Click image to go to web page)
Digital financial reporting is going to be so much fun!
Posted
on Monday, December 22, 2014 at 04:46PM
by
Charlie
in Becoming an XBRL Master Craftsman
|
Post a Comment
View Printer Friendly Version
Email Article to Friend