I expanded upon my first quick prototype, building out the idea for all US GAAP XBRL Taxonomy text blocks. This is a screen shot of what I put together: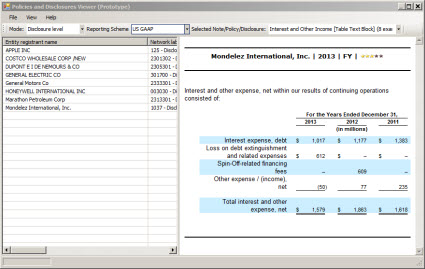 (Click image for larger view) Here are two more screenshots: Screenshot 1, Screenshot 2.
If you have Windows 7 and the Microsoft .NET Framework 4.5, you can run this application for yourself here. Just click on the "launch" link on that page (or just click here).
If you cannot get the application to run so you can experience it yourself, you can see the application in action by watching this video.
Or another way is to use one of two HTML 5 interfaces: with iFrames and without frames. (Only one of the approximately 959 text blocks is shown)
As I explained in my first quick prototype, I simply took the process I created and then iterated over each of the text blocks provided in this XML file which a representation of information from the US GAAP XBRL Taxonomy "Comprehensive Text Block List".
Posted
on Monday, June 2, 2014 at 08:38AM
by
Charlie
in Demonstrations of Using XBRL
|
Post a Comment
View Printer Friendly Version
Email Article to Friend