The most amazing thing happened today.
Someone pointed out Blockly to me. I created this in Blockly in just a matter of minutes: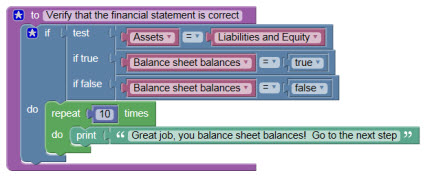 (Click to go to Blockly project)
Here are some demo applications which make use of Blockly.
While I think Blockly is amazing, that is not the amazing thing that happened. The amazing thing is that the guy who told me about Blockly said that he heard about Blockly from the FASB! Someone named Andie.
Turns out that Andie is a data modeler and likes ontology:
Andie joined the IFRS XBRL team at the beginning of 2012 and is now a part of the wider Disclosure Initiative which looks at all things disclosure and taxonomy. She is a data modeler, XBRL expert and quite keen on Ontology. Average working days include anything from working on ways to improve extensions in XBRL, modeling IFRS standards, working with the Conceptual Framework team, analysis of IFRS disclosures and developing the future model and management of the IFRS Taxonomy. She manages the consistency of the taxonomy with XBRL specifications and is currently a member of the XII Taxonomy Architecture Task Force. In previous roles she has worked at Ernst & Young with their XBRL team, for Atos Origin working on the Banco de España XBRL project and in the dim mists of time at DecisionSoft/Corefiling. Andie has also plied her trade as a data modeler and XML consultant on a number of other projects involving no XBRL whatsoever! In her spare time she dabbles in data analysis, photography and archaeology none of which bear any relation to her degree in Biological Sciences from Oxford.
THIS IS AWESOME!
The most awesome thing about all this is that Andie is a data modeler and does not have an IT background.
What seems to have happened is that the people who created Scratch, which I pointed out on my blog back in 2009, helped Blockly get going or something. Don't know, does not matter, it is just great that Blockly exists. That should help people understand that all digital financial reporting does not have to be complex.
Posted
on Monday, July 14, 2014 at 01:57PM
by
Charlie
in Becoming an XBRL Master Craftsman
|
Post a Comment
View Printer Friendly Version
Email Article to Friend