Here are several high-quality basic XBRL Formula examples.
You can see the messages provided and the results of the rules here. (Uses the XBRL Cloud Evidence Package which shows how the rules are used.)
Each of 76 small examples has XBRL Formulas based business rules associated with them. Just click on each template and on the page brought up, see the XBRL instance, the XBRL taxonomy and the XBRL Formula based business rules file.
By "high-quality" I mean that the rules solve real but fairly basic business rules needs and they have been tested against 4 XBRL Formula Processors which (a) each say the syntax is correct and (b) provide the same results for a given business rule.
This is a working prototype of a business rule creation interface: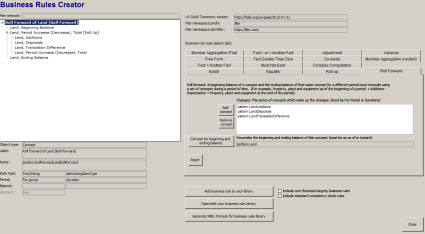 (Click image for larger view)Business rules are created leveraging patterns in the semantics for which rules are constructed. For example, "roll up" and "roll forward" rule creation templates are used rather than forcing business professionals to learn to work with the XBRL Formula syntax.
Posted
on Tuesday, August 25, 2015 at 06:48AM
by
Charlie
in Becoming an XBRL Master Craftsman
|
Post a Comment
View Printer Friendly Version
Email Article to Friend