A notion that makes things achievable which would otherwise not be achievable if it did not exist is the disclosure. As I am using the term a disclosure is simply some set of information that is disclosed within a financial report.
Some accountants might argue, "The primary financial statements are not a disclosure." Such an argument would be pedantic and would miss the main point.
The point is this: There is some term that can be used to describe all the sets of facts that are provided within a financial report. I am using the term "disclosure". I would be happy to use some better term if someone can point out that term. Until then, I will stick with the term disclosure.
Again, a disclosure is simply some set of information that is disclosed within a financial report. That set could contain ONE single or complex fact or MANY single or complex facts. The important thing to note is that a disclosure is a set and every fact that is reported within a financial report fits into some set.
I have created a list of such disclosures. Here is that list for US GAAP in machine-readable form, an XBRL taxonomy schema. And here is that list of disclosures in human-readable form organized within a set of topics that helps to organize the long list of disclosures.
Here is a subset of that list of US GAAP disclosures. That is in machine-readable form. Here is another version of that same list of 68 disclosures in RSS which is both machine-readable and human-readable.
The RSS list is interesting because it cross references the disclosures to a other information: the US GAAP XBRL taxonomy, templates for the disclosure, exemplares of the disclosures in public company financial XBRL-based filings, and some other sets of information.
One interesting set of information is the templates. A template is basically a prototype of a disclosure. I have templates for a majority of the 68 disclosures in my working set. I provide the list in machine readable form, in human readable, and in a ZIP archive which you can download.
Templates are particularly useful. A template is essentially an XBRL instance, the XBRL taxonomy that supports that XBRL instance, and the business rules that enforce the mathematical relations within the disclosure.
I have created such template libraries for US GAAP, IFRS, and my XASB reporting scheme prototype:
All of these templates for US GAAP, IFRS, and the XBRL reporting schems are represented consistently in XBRL.
Another notion is that of the exemplar. An exemplar is an example of a disclosure from some existing financial report. I have created exemplars libraries for US GAAP, IFRS, and XASB reporting scheme prototype (for more information on US GAAP and IFRS see here:
It is utterly trivial to access the approximately 500,000 pieces of the 6,000 US companies that file to the SEC using US GAAP and the 40,000 pieces of the 400 foreign issuers that file to the SEC using IFRS. I can access those by report or by disclosure.
Here is some experimentation. These sets of XBRL-based report fragments have some XBRL technical syntax issues that I have not resolved yet, but they help you see the opportunity:
Microsoft 2016 10-K: The RSS feed provides pointers to the 127 networks that make up the 10-K of Microsoft. Rather than being combined into ONE report, they have been represented as individual XBRL instances and the related XBRL taxonomies.
Balance sheets: This RSS feed provides pointers to 33 balance sheets which were extracted from 33 different XBRL-based reports to the SEC.
What is my point here? The XBRL-based reoprts in the SEC EDGAR system is a machine-readable library, a knowledge base, of US GAAP and IFRS financial disclosures that can be leveraged. The approximately 6,000 XBRL-based 10-Ks of public companies that report under US GAAP are made up of about 500,000 separate networks. The approximately 400 XBRL-based 20-F and 40-F filings of foreign issuers that report under IFRS are made up of about 40,000 separate networks.
Those existing report are excellent templates and exemplars for creating new reports. Someone told me that CPA stands for "copy, paste, adjust" meaning that accountants often use existing reports to create new reports or a disclosure that is new to an existing report. XBRL offers a way to do this significantly more effeciently! Existing reports are a database of examples of how to create reports.
You can organize the templates and exemplars in an easy to understand software interface: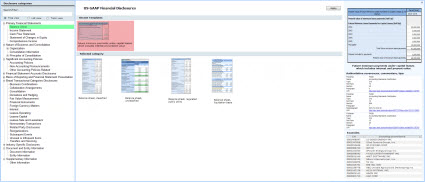 (Click image for larger view)
Templates and exemplars are explained further in my document Putting the Expertise into an XBRL-based Knowledge Based System for Creating Financial Reports.
This is an excellent feedback loop!
Posted
on Thursday, November 8, 2018 at 08:00AM
by
Charlie
in Becoming an XBRL Master Craftsman
|
Post a Comment
View Printer Friendly Version
Email Article to Friend