One day, I was looking out of my office window and I saw this: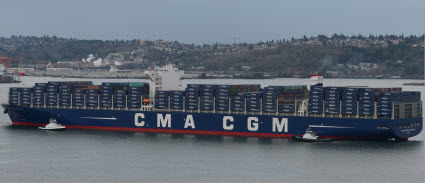 (Click image for a larger view)
The ship is the world's largest container ship. The 4 minute video, How a Steel Box Changed the World: A Brief History of Shipping, explained how the intermodel shipping container, standards ISO 668:2013 and ISO 1496-1:2013, changed the world.
This 10 minute video, How Container Ships Work, digs into the details the effeciencies realized from using shipping containers.
Standards are a set of technical specifications that provide or intend to provide a common design for a product or process. Standardization can be across organizations or even within an organization.
The Harvard Business Review article, The Globalization of Markets, the author asserts that "well-managed companies have moved from emphasis on customizing items to offering globally standardized products that are advanced, functional, reliable-and low priced. Multinational companies that concentrated on idiosyncratic consumer preferences have become befuddled and unable to take in the forest because of the trees. Only global companies will achieve long-term success by concentrating on what everyone wants rather than worrying about the details of what everyone thinks they might like."
Just creating a standard will not make a market. The standard must serve some problem.
This video helps you understand the benefits of standards.
Posted
on Saturday, December 22, 2018 at 04:54PM
by
Charlie
in Becoming an XBRL Master Craftsman
|
Post a Comment
View Printer Friendly Version
Email Article to Friend