The group creating the CAFR Taxonomy for financial reporting by state and local governmental entities has released a public exposure demonstration CAFR Taxonomy.
This is the main entry point into the CAFR Taxonomy.
In addition, there were nine Inline XBRL documents that have been created using that taxonomy; here are the Inline XBRL documents, the governmental entity the financial information is for, and who created the document:
So, they look pretty. But how good are they?
I took the URLs for all of these financials, put them into TWO RSS feeds that are machine readable:
I ran the 9 document through XBRL Cloud validation and this is what I got. Hard to tell exactly what is going on; of the 9 only three were even validationed: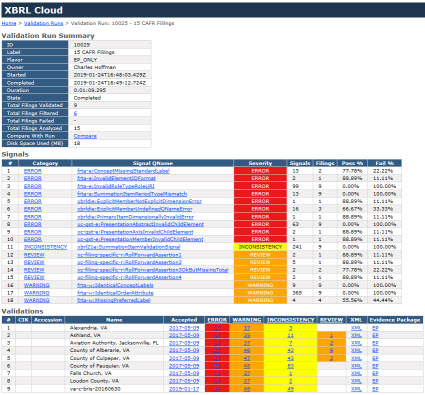 (Click image for larger view)
These look very nice, the creators get an A+ for presenting the information nicely. I also give the files an A+ for XHTML syntax, all are 100% valid XHTML. There seem to be a lot of XHTML formatting issues like attributes on elements that are not allowed.
But I give these XBRL-based financials a D- for machine-readability. Plenty of room for improvement.
Posted
on Thursday, January 17, 2019 at 02:14PM
by
Charlie
in Becoming an XBRL Master Craftsman
|
Post a Comment
View Printer Friendly Version
Email Article to Friend