A while back I did a post on my blog, Understanding Model Structure and Why EFM Rules are Not Suffecient. If you don't understand what I mean by model structure, there is a PDF on that blog post which explains it.
I want to reiterate some points given that I know have very, very specific data which pretty much makes the existence of these categories of pieces hard not to understand.
Every SEC XBRL financial filings is made up of specific report elements which can be grouped into categories: Network, Table, Axis, Member, Line Items, Concept, Abstract. These pieces can ONLY be related to the other pieces in certain specific ways. Period. Software can enforce these rules to help business users not violate these rules.
These pieces are related in specific ways. While the relations between the report elements above relate more to the model structure of a digital business report, relations also exist between these categories of report elements from a business semantics perspective. For example, a Concept can be related to another Concept to form a Roll Up, or a Roll Forward, or a Hierarchy. I am calling these concept arrangement patterns. Software can also enforce these rules.
If you understand the two points above, if you are inquisitive you might be asking yourself if there are other business semantics type relations which software can enforce. The answer: Yes there is. And that would be a significant benefit to business users creating financial reports.
Ask yourself, is the software you are using leveraging these relations, guiding you through the process of creating financial reports? If not, why? Think about it.
Here is a detailed summary of every relation (yes, EVERY relation) in the model structure of 5262 SEC XBRL financial filings, all of which are 10-Ks.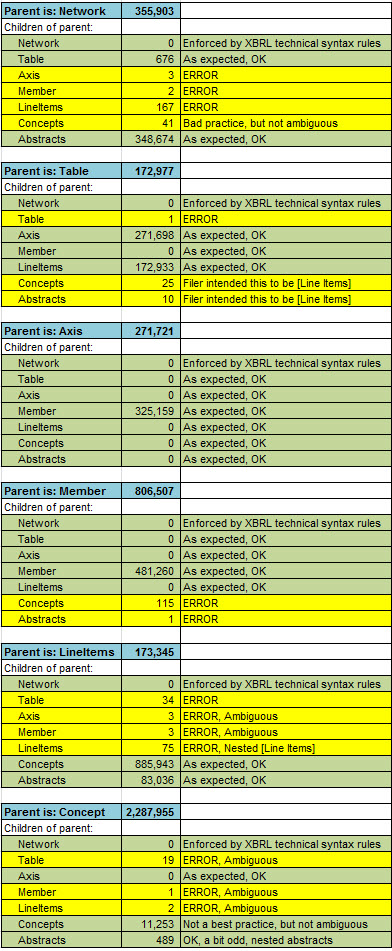 Posted
on Tuesday, January 14, 2014 at 08:42AM
by
Charlie
in Becoming an XBRL Master Craftsman
|
Post a Comment
View Printer Friendly Version
Email Article to Friend