The U.S. Treasury department has a bold vision going far beyond what is required by The DATA Act. That vision: the entire spending life cycle.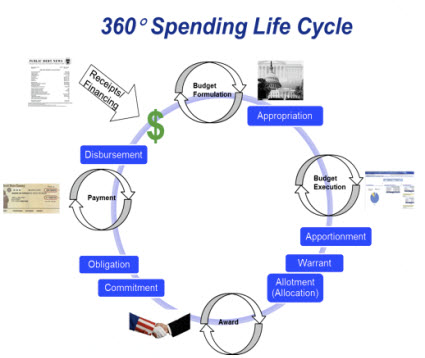 Treasury Approach - Transparency
That vision is laid out in a presentationby David Lebryk, commissioner of the U.S. Treasury Department's Fiscal Service. (Be sure to have a look at his PowerPoint presentation).
The DATA Act requires the Treasury Department and Office of Management and Budget to jointly announce federal spending data standards by May 9, 2015.
To that end, the Treasury Department is floating a request for information(RFI). The RFI seems to be looking for consulting services to create an audit framework. This is one section of the RFI:
The white paper should describe the methodology that would be used to develop the specific aspects of the comprehensive framework (e.g. audit programs, etc.). Considerations related to the development of the comprehensive framework of audit procedures would likely include, but may not be limited to:

• The nature, extent and timing of audit procedures that TOIG would need to perform to effectively and efficiently oversee Treasury's development and implementation of data standards, processes, systems and products required to successfully comply with its responsibilities under the DATA Act.
• Audit procedures that would allow TOIG and other Agency OIGs to comply with their responsibilities under Section 6 of the DATA Act in a manner that complies with Generally Accepted Auditing Standards, while promoting the efficient use of Treasury, TOIG and Agency OIG resources.
• The appropriate resources (e.g., staffing levels, specialized expertise, timeframes, etc.) needed to effectively and efficiently execute the comprehensive framework of audit procedures in accordance with the requirements of the DATA Act.
• The extent, if any, to which existing audit efforts within Treasury and other Agencies may be leveraged to comply with DATA Act audit requirements.
Interesting. This is good news, they want to check the information. Audit it. Given that accountants don't "audit" XBRL (their words, not mine), I actually don't quite understand what this means.
But anyway, from what I understand, there are approximatly 300,000 entities which receive federal grants (federal assistance). Per Wikipedia, total federal grants is about $400 billion annually. Any entity with grants over $500,000 is required to be audited, an OMB A-133 audit or "single audit". So, I am not totally sure I understand that 300,000 entities number. Whether that is all entities which require an audit or all entities in total, or all entities which receive some sort of grant. Consider it a ballpark figure. But the number is significant and there are lots of big and small CPA firms that do these audits for these grants.
I will stop for now. Need to check on some things.
Posted
on Wednesday, July 2, 2014 at 11:31AM
by
Charlie
in Digital Financial Reporting
|
Post a Comment
View Printer Friendly Version
Email Article to Friend