Just like many other things a taxonomy or ontology has a life cycle. The paper Towards ontology evaluation across the life cycle explains the problem of not understanding that life cycle and not being able to evaluate the quality of an ontology:
Problem: Currently, there is no agreed on methodology for development of ontologies, and there is no consensus on how ontologies should be evaluated. Consequently, evaluation techniques and tools are not widely utilized in the development of ontologies. This can lead to ontologies of poor quality and is an obstacle to the successful deployment of ontologies as a technology.
The paper points out that there are five aspects to the quality of ontologies which need to be evaluated:
intelligibility
fidelity
craftsmanship
fitness
deployability
The paper provides this diagram of the different stages of the taxonomy/ontology life cycle: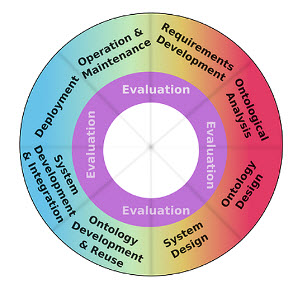 F. Neuhaus et al. / Communiqué
This is a list of the stages which are explained in the document:
System design
Ontology design
Ontological analysis
Requirements definition
Operations/maintenance
Deployment
System development and integration
Ontology development and reuse
I missed this in my chapter on Knowledge Engineering Basics for Professional Accountants, but will add it in the very near future.
Posted
on Thursday, May 14, 2015 at 07:49AM
by
Charlie
in Becoming an XBRL Master Craftsman
|
Post a Comment
View Printer Friendly Version
Email Article to Friend