Public companies provide information about subsidiaries to the SEC as an exhibit to their 10-K filing. Using Microsoft as an example, if you go to their SEC filing page, look for EXHIBIT 21 and you will see their list of subsidiaries.
But there is a bit of a problem. That list is not machine-readable. But what if the information were provided in a machine-readable format, such as XBRL.
I created a prototype of that machine readable list of subsidiaries.
I arbitrarily picked the comany XCEL ENERGY INC. Here is their SEC filing page. Here is their EXHIBIT 21 which shows their list of subsidiaries. Here are the pieces of the prototype:
Here is what the relations look like in an off-the-shelf XBRL Taxonomy creation tool: (this does not show the arcrole that expresses the relation, that is shown as a popup.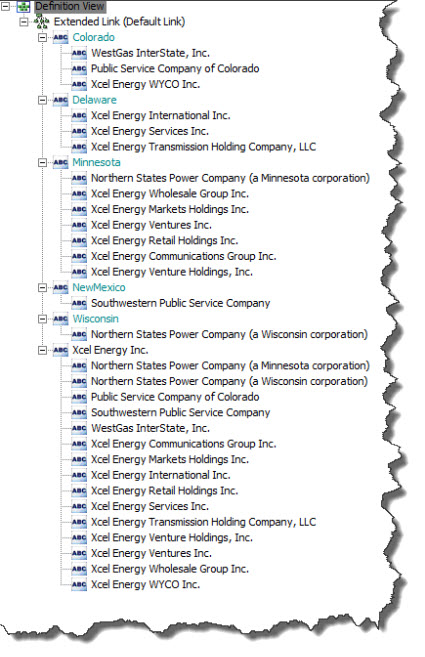 That can be a bit hard to read. Here is exactly the same information imported into an Excel spreadsheet: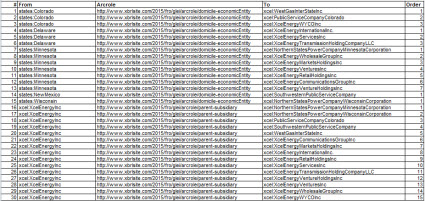 (Click image for larger view)
So there you go; information that is both human-readable by simply rendering the information in HTML on the SEC web site, or machine-readable.
Pretty much any type of relation can be represented using this approach. Here are some other types of relations between entities or related to entities that could be represented in a similar manner.
You could do this exact same thing using RDF/OWL but those tools are harder to understand than XBRL tools. Frankly, which technical syntax is used matters less. Having the information in some machine-readable form (that is also human-readable) rather than only in human-readable HTML documents that require significantly more work to make use of the information the documents contain.
Digital!
Posted
on Wednesday, April 27, 2016 at 05:52PM
by
Charlie
in Becoming an XBRL Master Craftsman
|
Post a Comment
View Printer Friendly Version
Email Article to Friend