AsReported has provided a set of measurements related to the quality of XBRL-based financial reports created by different software vendors and filing agents. Here is their blog post that has the measurements.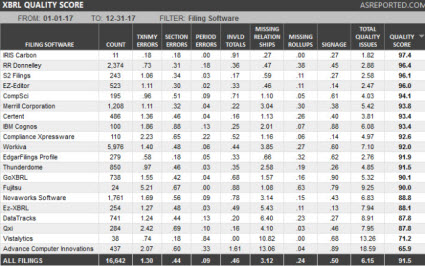 What AsReported is measuring is a bit different than what I am measuring. My focus is on accounting and reporting logic. AsReported is more focused on mechanical, structural, mathematical, and some logical relations at this point it seems. What is interesting is that they give each filing agent/software vendor a score (see the right most column). They call this the "Quality Score" and discuss that metric on their blog.
Another software vendor taking measurements is XBRL Cloud. They provide details for each filing on their EDGAR Dashboard. You can search by company name and get details by public company. Here is an example.
Posted
on Sunday, January 7, 2018 at 11:23AM
by
Charlie
in Creating Investor Friendly SEC XBRL Filings
|
Post a Comment
View Printer Friendly Version
Email Article to Friend