One of the things that I have done that has gotten a good deal of interest from accountants is the notion of "templates" and "exemplars" which I went over in this blog post. In particular, this graphic: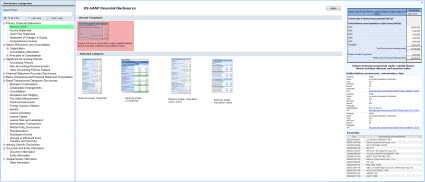 (Click image for a larger view)
What accountants don't generally realize is what it takes to make the notion of templates and exemplars to actually work. Also, they tend to not understand what templates and exemplars are useful for.
I mean, think about that. What exactly is a "template"? What is an "exemplar"? What is the relationship between a "template", an "exemplar", a "fragment" of a report, etc? What are they useful for? All of that will be explained in the future.
What I want to point out is the power of giving a disclosure a computer addressable name. Think about something. How do you actually get "templates" and "exemplars" to actually work and what does "work" even mean?
What templates and exemplars actually do will become crystal clear when I get the functionality working the way I want it to work within a software application. Then, there will be no misperceptions about what a template is, what an exemplar is, and the value the notion of "templates" and "exemplars" bring to financial reporting process, techniques, tasks, workflows, and philosophies.
What I want to explain is how I get all this to work.
Here is the big picture if you are interested. Key to the notion of "templates" and "exemplars" is the notion of the "disclosure". Take a look at the graphic below (click the image to get a larger view):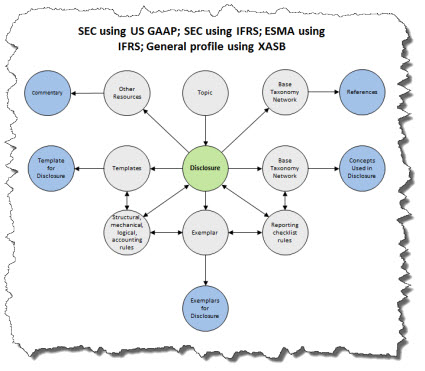 (Click image for larger view)
Note the "disclosure" in the center of the graphic and that there is a lot of stuff hanging off of that part of the graphic. The arrows represent connections between metadata that describe disclosures, templates, exemplars, references, commentary, rules, topics, and the base taxonomy.
This is a prototype of disclosures organized within a hierarchy of topics: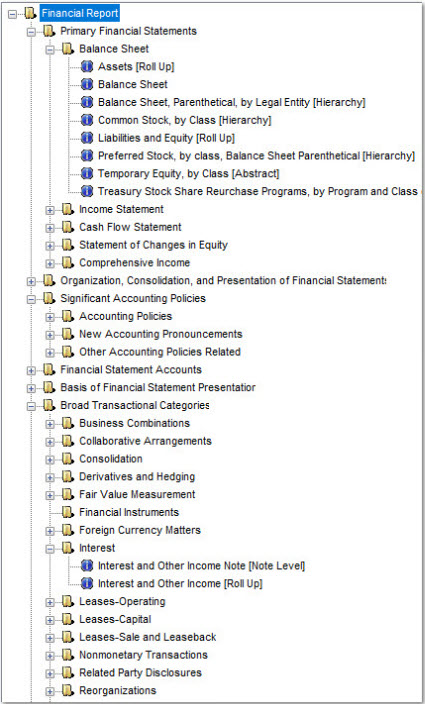 That is a prototype that I created for US GAAP. I also have prototypes for IFRS and something that I call the XASB reporting scheme that I use for testing and prototyping.
The most important thing to realize here is not about the "templates" or "exemplars" that you see. The most important idea is to recognize that what I created was a FRAMEWORK. The framework is tested using US GAAP, IFRS, and XASB reporting scheme. I don't have the disclosures for any one reporting scheme, US GAAP or IFRS fully complete. What I have is some really comprehensive prototypes.
There is one other piece that is critical to understand that helps you see that what a software engineer and I are doing will work. That idea is what I call the "block". I will explain the block and how all these pieces fit together in future block posts, so stay tuned.
If you are curious or want additional details, please read the document Putting the Expertise into an XBRL-based Knowledge Based System for Creating Financial Reports.
Step-by-step, high-qualty XBRL-based digital financial reporting that works and is approachable by accounting professionals is becoming a reality.
Posted
on Monday, November 26, 2018 at 09:57AM
by
Charlie
in Becoming an XBRL Master Craftsman
|
Post a Comment
View Printer Friendly Version
Email Article to Friend