Too many people say that financial statements need to be forms and that extensions will not work. This is not true. Here is a good job of what extensions offer: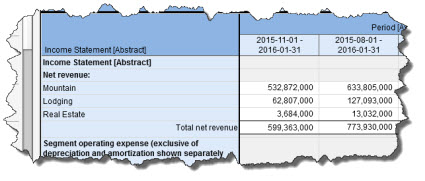 (Click link to go to report income statement)
If you look at this income statement, the line item "Total net revenue" uses the US GAAP XBRL Taxonomy concept "us-gaap:SalesRevenueNet". The breakdown of revenue into "Mountain" and "Lodging" are extension concepts. "Real Estate" is from the US GAAP XBRL Taxonomy.
So what you get is the ability to compare across economic entities at the "Revenue" level. You get to compare the detail across periods for this specific economic entity. This filer is 100% consistent with the fundamental accounting concept relations.
This same idea can be used for any line item within a financial report. So, there is no need for financial reports to be static forms for the information to be useful.
Further, it is not unreasonable to infer that the extension concepts are some sort of revenue. The XBRL presentation relations infer this as well as the XBRL calculation relations. Sure, the fact that the extension concepts are in fact revenue can be made more clear by using an XBRL "general-special" relationship to show this explicitly.
Posted
on Tuesday, March 22, 2016 at 09:58AM
by
Charlie
in Creating Investor Friendly SEC XBRL Filings
|
Post a Comment
View Printer Friendly Version
Email Article to Friend